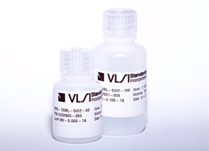 A SEM image of Silica Spheres of various sizes.
CREATE YOUR OWN STANDARDS. The Certified silica solutions are used to generate calibration standards for your instruments and characterize your own process.
Silica Particle Solutions (SPS) Product Description
VLSI Standards' silica particle solutions are resistant to UV/DUV wavelengths. The silica particles diameter is traceable to SI. The silica particle solutions are available in 14 sizes (32 nm to 1500 nm particles) and two volumes (15 mL and 50 mL).
VLSI Standards also offers optional deposition services to further support manufacturers as they replace PSL deposition with silica solutions to future-proof their chip and wafer inspection processes.
Silica Particle Solutions (SPS) Product Specifications
Silica Spheres
From 32 nm up to 1.5 micron