Pictured is a 2µm FOV CD-SEM micrograph of a NanoLattice Standard.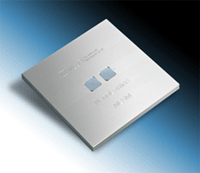 The image above shows a 6" x 6" x 0.25" aluminum plate with optional gratings, mounted in perpendicular XY configurations.

2002 Micro Magazine
Top 25 Product All-Stars
SET THE SCALE FOR ADVANCED LITHOGRAPHY TOOLS. The NanoLattice™ (NLSM) 100 nm pitch standard for mask handling tools utilizes gratings with near perfect periodicity to calibrate magnification and scan linearity of CD-SEM and Atomic Force Microscopes (AFM). Make the grade for advanced lithography tools, with the only pitch standard of its kind available below the 130 nm node.
NanoLattice Pitch Standard for Mask Handling Tools (NLSM) Product Description
The NanoLattice lithography tool is a 1.2 mm x 1 mm etched silicon grating with a nominal pitch of 100 nm. Each grating is continuous over a large certified area, permitting tens of thousands of measurements. The NanoLattice lithography tool's global alignment marks on both sides of the chip can be used to assist pattern recognition and automation. Each standard is individually mounted on a 6" x 6" x 1/4" carrier reticle, compatible all photomask handlers.
NanoLattice Pitch Standard for Mask Handling Tools (NLSM) Product Specifications
Substrate
152 mm x 152 mm x 0.25 55 AI carrier
Certified Pitch Values
100 nm, 200 nm, 400 nm, 800 nm, 1000 nm
Uncertainty of 100 nm Pitch Metrology
< 1 nm
Nominal Pitch Value
100 nm ± 2 nm
Material
Silicon <100>
Pattern Defect Density
Less than 1 defect size > 0.2 µm per 50 image frames of size 1.5 µm x 1.5 µm
Certified Area
800 µm x 800 µm
Traceability
Traceable to a pitch master standard measured by NIST