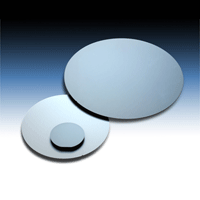 The Resistivity Standard, available in three wafer sizes, is shown in its matte finish.

IMPORTANT!
When performing four point probe calibration measurements with a 4-point resistivity probe system, you must ensure that the resistivity probes and the silicon make solid, repeatable contact. Poor contact is revealed by a high standard deviation of multiple measurements taken from the same area or in some cases, zero-voltage readings. We recommend the use of tungsten carbide probes with a radius of 40 microns, a probe spacing of 1.6 mm, and a loading force of 200 grams per pin. This type of probe is often referred to in literature as "Probe Type E". Other resistivity probes with wider radii may not be able to break through the layer of native oxide on the wafer and may result in poor contacts.
RESISTANCE CALIBRATION NEED NOT BE FUTILE. Resistivity Standards (RS) span 4 decades and are designed for resistance calibration of both contact and non-contact resistivity measuring instruments. The resistance calibration standard is created by sawing a doped single crystalline ingot into wafers, lapping and chemically cleaning them to VLSI Standards' specifications.
Resistivity Standard (RS) Product Description
The resistance calibration standards are bare silicon wafers available in 3 in, 8 in and 12 in sizes. The silicon is p-type (Boron) doped to nominal resistivity values, from 0.002 ohm.cm to 3 ohm.cm as available on the 3" model. For enhanced resistance calibration and measurement standard on contact resistivity probes, the wafers are lapped and chemically polished. The increased surface roughness allows cleaner penetration through the native oxide layer and better contact when using a 4-point resistivity probe system.
Each wafer is certified at its center and traceable for accuracy. Certificates of Calibration are provided with each resistance calibration standard and report the resistivity, sheet resistance and thickness calibration and measurement values with calculated uncertainties.
Resistivity Standard (RS) Product Specifications
Wafer Size
Resistivity
(Ohm.cm)
Tolerance
(Ohm.cm)
Sheet resistance
(Ohms/Sq.)
Thickness
(µm)
76.2
0.002
0.002 ± 30%
0.04
508 ± 25
76.2
0.008
0.008 ± 20%
0.16
508 ± 25
76.2
0.01
0.01 ± 20%
0.2
508 ± 25
76.2
0.03
0.03 ± 20%
0.6
508 ± 25
76.2
0.1
0.1 ± 20%
2
508 ± 25
76.2
0.3
0.3 ± 20%
6
508 ± 25
76.2
0.9
0.9 ± 20%
18
508 ± 25
76.2
3
3.0 ± 20%
59
508 ± 25
76.2
30
30.0 ± 20%
591
508 ± 25
200
0.01
0.01 ± 20%
0.14
710 ± 25
200
0.03
0.03 ± 20%
0.42
710 ± 25
200
0.1
0.1 ± 20%
1.4
710 ± 25
200
0.3
0.3 ± 20%
4.2
710 ± 25
200
1
1 ± 20%
14
710 ± 25
200
3
3 ± 30%
42
710 ± 25
200
10
10 ± 20%
141
710 ± 25
200
30
30 ± 20%
423
710 ± 25
300
0.02
0.02 ± 30%
0.25
775 ± 25
300
1
1 ± 30%
13
775 ± 25
300
2
2 ± 30%
26
775 ± 25
300
10
10 ± 30%
140
775 ± 25