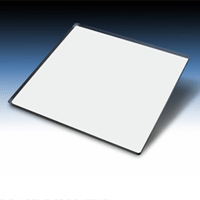 The Reticle Contamination Standard appears to the naked eye as a photomask blank. The reticle (or optionally its pellicle) is deposited with microscopic polystyrene latex spheres for reticle calibration.
SMALL OR LARGE, FIND PARTICLES THAT COUNT. The Reticle Contamination Standard (RCS) is used to calibrate instruments which size and detect particles on the surface of a reticle or its protective pellicle. Use Reticle Contamination Standards to characterize particles, before particles characterize products.
Reticle Contamination Standards (RCS) Product Description
The Reticle Contamination Standard is built by depositing highly spherical polystyrene latex (PSL) spheres which have well- characterized optical properties and a very tight monodisperse size distribution. These parameters make PSL spheres a useful material for the reticle calibration and monitoring of instruments that measure and count particles. A range of traceable to SI Units through NIST and other non-traceable PSL sizes or standards with smaller or larger sphere sizes may be special ordered.
Deposition may be performed on the reticle surface or on the surface of the pellicle, after mounting on the reticle. By request, front-side and/or backside particle deposition as well as pellicle mounting on front or back can be done. VLSI Standards performs full-substrate particle depositions or spot particle depositions with a wide variety of traceable sphere sizes down to 40 nm for reticle calibration and monitoring.
Reticle Contamination Standards (RCS) Product Specifications
Substrates Available:
Customer-supplied (any size), 125 mm x 125 mm or 152 mm x 152 mm: clear, chrome, half clear / half chrome
Pellicles available
Contact VLSI Standards
Particle Sizes Available
40 nm through 50 µm
Traceability
Traceable to SI Units through NIST
To receive a quotation, please click the "Get Quotes" button above. You will be navigated to the Reticle Contamination Standard Request for Quotation page. Upon completing all the required information and submitting the Reticle Contamination Standard Request for Quotation form, the appropriate VLSI Standards sales person will be informed of your request and will respond to you directly with a quotation and additional information.